The Western North Regional Co-coordinating Council in collaboration with the Forestry Commission joined other regions across the country to commemorate the celebration of the Green Ghana Day.
This year's event took place at the forecourt of the Regional Coordinating Council (RCC), Sefwi Wiawso, and was under the theme "OUR FOREST, OUR HEALTH".
In a speech read on behalf of the Regional Minister, Joojo Rocky Obeng by the Chief Director, Ebenezer Amoah, he described the Green Ghana Day as a life-saving initiative spearheaded by the Ministry of Lands and Natural Resources.
He emphasized that the theme "Our Forest, Our Health" reiterates the importance of forest preservation in safeguarding our lives and cited the forest as a source of herbal products, food, shelter and more importantly its contribution towards global warming and urge the general public especially those in the Region to make the initiative a way of life and not to wait for the day alone.
According to him, the National target of the Ministry is to plant Ten (10) million seedlings across the country, out of which the western north region alone has been allocated 1.1 million trees out of which six hundred thousand (600,000) will be planted across the region while five hundred thousand (500,000) will be planted in the reserves.
Addressing the gathering, Katakyie Kwasi Bumagama II, the Paramount Chief of the Sefwi Wiawso Traditional Council and a Board member of the Forestry Commission, commended the government, particularly the Ministry of Lands and Natural Resources, for introducing the Green Ghana Program and further admonished the people in the Region and Ghana as a whole to continue planting trees and actively monitor their growth.
He stressed the importance of vigilance and the protection of forests for the sake of future generations and also emphasized the significance of tree-planting exercises in the preservation of the environment, supporting life, and maintaining the ecosystem.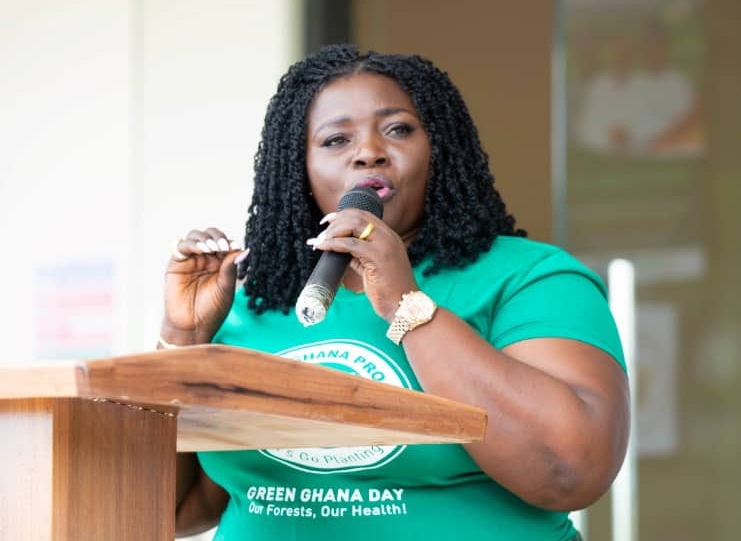 On her part, the Deputy Chief Executive Officer of the Forestry Commission, Madam Martha Kwayie Manu expressed a positive outlook for the future of Ghana's forest reserves, even in the face of ongoing illegal activities.
She further stated that the Commission has put in measures to combat illegal activities in our forest reserves and added that the Forestry Commission is committed to stopping or reducing illegal activities and safeguarding the integrity of Ghana's forest reserves.
Madam Martha Kwayie urged local communities nearer to the forest reserves to join in the fight against illegal activities in our forest reserves.
Mr. Adu Amankwah, the Western North Regional Manager of the Forestry Commission, expressed appreciation to the traditional leaders for their commitment towards the protection and preservation of the region's natural forests and admonished community members around the forests in the Region to continue to play their watchdog roles to compliment the effort of the President of Ghana in safeguarding and preserving the forest cover of the Region.
Reported by ROBERT ATTOH (PRO, WNRCC, SEFWI WIAWSO)